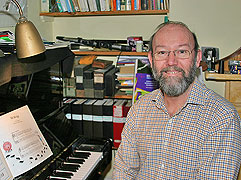 The music room
Welcome to my music room. This is where I teach.
Look around and you will see a variety of instruments: saxophones, clarinets, oboe, bassoon and flute, plus the two pianos and Max the whippet curled up snugly on the settee.
I offer beginners' piano, and all wind instruments up to Grade 8 of the Associated Board of Royal Schools of Music, for which I am now Folkestone's Honorary Local Representative. I am proud of my 100 per cent exam pass rate.
My students range in age from 7 to 70. Please contact me to find out more and to book lessons.
I also teach the Northumbrian pipes and play the hurdy-gurdy.