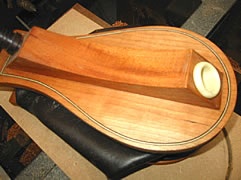 Prices, terms and conditions
Piano Tuning
Upright and grand piano, tuning only
£35.00
Regulation and repairs, charge per hour
£30.00
Woodwind instruments
Checkdown*
Service**
Re-pad***
Flute and Piccolo
£25.00
£75.00
£120.00
Clarinet
£25.00
£50.00
£100.00
Soprano Saxophone
£30.00
£60.00
£100.00
Alto/Tenor Saxophone
£30.00
£50.00
£200.00
Baritone Saxophone
£50.00
£100.00
£300.00
Bassoon and Oboe
repairs charged at hourly rate
Brass Instruments
charged at hourly rate plus parts
String Instruments
charged at hourly rate plus parts
* Checkdown Without dismantling where possible, check instrument for leaks, re-seat pads and regulate to playing order.
**Service Dismantle; clean body and keywork; re-seat pads; check corks and springs; re-assemble; regulate and lubricate.
***Re-pad As in 'Service' above plus replacing all pads and cork.
Prices correct as at May 2004 and act as a guide only. Prices are subject to price variation of parts and individual requirements of instruments.
An estimate of cost will be provided before beginning work. Customers are responsible for postage, carriage and insurance.