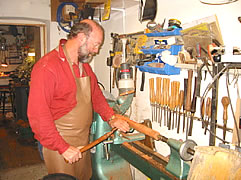 About Chris McNeilly
Chris McNeilly began his training in making and repairing instruments with the Black Watch band. He then transferred to the Household Division, where he was made responsible for the musical instruments. He spent six years at the Royal Military School of Music, Kneller Hall.
Having become noted for his skills and expertise, Chris was approached by the Sultanate of Oman's Armed Forces to work for them. He moved to Oman, where he was responsible for the repair and maintenance of musical instruments of His Majesty the Sultan's Massed Bands for over 18 years.
As a musical repairer of forty years' standing, Chris's skills in making and restoring musical instruments have grown, with an emphasis on quality, precision and user-friendliness. He has even built harpsichords.
Back in the UK since 2003, Chris has built up a substantive workshop to repair and manufacture instruments.
You'll also find him playing the pipes at Folk Festivals, such as the Rencontre des Luthiers at St Chartiers in France, and in jazz bands and street festivals - anywhere really! If you can blow it, Chris can play it.